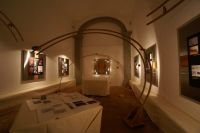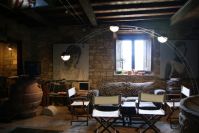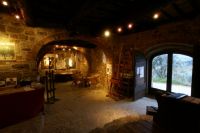 Type and size of studios:
- Ample 45 m2 studios, suitable for painting, sculpture and installations. Access directly from the square
- Historic cellars (220 m2) divided into different areas.
All studios are open 24 hours a day. The entire centre is wireless equipped.
The adjacent consacred Church can be used for special works, like installation or music recorder.
In the Church that is an old Organ restored available for musicians.
We suggest to bring your laptop. One communal computer have been set up for resident artists to share in the studio.
Facilities include meeting table, a black and white photography darkroom, video projector, digital piano, amplification system, projection screen, basic handtools, easels, air compressor and electric stapler, basic tools for wood.
In the office there are three printers A4 black and white / color, scanner and copier.
If you need to print more than 30 pages during your stay, we may ask that you pitch in towards the cost of ink and paper. Other printers : until A0 format, machines to plasticize and to bind A4 format ( service cost not included).
Cell phone service is available.
Normally, the artists have their own mobile phone, however if you have not or your not working in Italy, we have mobile phones available to artists. You just have to add credit.
That is an automatic car available for the artists in residence.