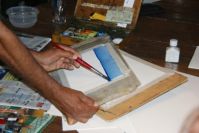 The pictorial technique of watercolour utilizes transparent colours diluted with water and applied to paper or equivalent (similar) materials. The quick and rapid action of watercolour allows for that"flash"of reality, the evocative timelessness of the fleeting moment captured in this spontaneous medium. More than any other medium watercolour allows for the expression of human emotion and sentiment, alongside the mystery and secrets of nature. Introduction to the technique of watercolour (use of supports; various types of papers, fine and coarse texture; traditional colours, white colour; types of brushes; colours that can be found on the market and their differences).
Painting method and correct proportions. Use of primary colours and their mix in order to make secondary and tertiary colours. Colour harmony and tonal gradation: exercise of composition of subjects using selected colours.
Technique of wet on dry. Technique of wet on wet. Technique of masking. Open-air watercolour painting in the Tuscan landscape.
DOCENTE
Nato in Iraq dove si è diplomato all'Istituto di Belle Arti di Bagdad e successivamente laureato in pittura all'Accademia di Belle Arti di Firenze.
Ha tenuto corsi di diverse tecniche pittoriche sia nel suo studio che alla scuola Lorenzo de Medici, alla scuola Giambo, all' Ospedale psichiatrico di Montelupo F.no e dal 1990 è docente di pittura alla scuola Leonardo di Prato.
Attualmente lavora solo con la tecnica dell'acquarello bianco e nero.
Ha realizzato numerose mostre personali e collettive in Iraq, Italia, Francia, Olanda, Inghilterra e Belgio.
Vive e lavora in Italia dal 1977.
Sito:

   

www.resmiarte.eu