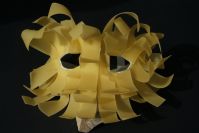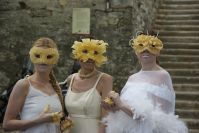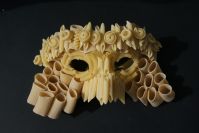 The Pasta Dance
Relational art event
Concept by Tancha Dirickson
"The Pasta Dance" by artist Tancha Dirickson was set in the medieval village of Montefioralle in Greve in Chianti. The project, a relational art performance, was based on the active cooperation of the community. Participants, wearing masks created by the artist, walked the cobblestone streets improvising with movement and figurative games. Through the simulation of the act of sifting flour or draining pasta, the artist brings together elements of everyday life with situations where the action of an individual or group in a particular place and at a particular time constitute the work.
Always interested in the culture of food and its social connections, the artist often works with various types of food. In this piece her interest was focused on pasta, a staple of Italy. The performance is part of a larger exhibition that will include the screening of a video of the performance, an installation of the masks and an artist talk at La Macina di San Cresci, an international residence for artists ( www.chianticom.com) where Tancha implemented the project.
Tancha Dirickson is the artistic name of Andrea Dirickson Garrett. She is a native Brazilian multimedia artist living and working in the agricultural valley of the Okanagan on Salt Spring Island in British Columbia, Canada.
Her recent relational aesthetics based work often revolves around collaborative projects using irony and humor to convey subjective comments about the politics of a locale or a situation (micropolitics). Her formal object-based practice, through printmaking and abstract painting, examines color surface, open spaces and peripheral islands. Tancha Dirickson has an Interdisciplinary MFA in Visual Arts from the University of British Columbia.