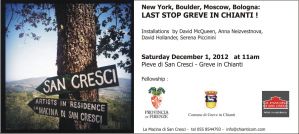 International scope and participation record in the number of applications to the scholarships provided by the Province of Florence in the context of the mobility of artists addressed to young talents under 35.
The prize is a residency of art. To the winners were given the opportunity to stay for a month at La Macina di San Cresci in Greve in Chianti, at the end the presentation of the works made during the residence.
The selection committee awarded artists David McQueen and Anna Neizvestnova "For the artistic strongly linked to social problems and the complexity of the research projects purposed for the residence."
David McQueen lives and works in New York. He has worked outside making the "Windmill for Leonardo".
Anna Neizvestnova lives and works in Moscow. Her installation "Canto III, Limbo" is located within the parish church of San Cresci. David Hollanderlives with goats in sparse dry Colorado where the Great Plains end and the Rocky Mountains begin. "Perishable Fragments" are sculptures built in clay and not fired, they are been placed into the landscape and the cityscape in their raw state so that the weather and the actions of people will continue to shape them. The installation by Serena Piccinini is the migration of a flock of rare Trampolle of the Snows (Nevricus Lungus), fantastic birds, small but with long legs to cover large distances. The Trampolle unlike other birds are always looking for new cold/snowy areas.