Exhibition 6 - 29 agosto 2015. Mary Wells  born and raised in New England, she has lived her adult life in Portland, Oregon.
In 1999—after having dedicated decades to her large and lively family—she began studies at Oregon College of Art and Craft (OCAC). In 2003 she received the BFA degree and re-began her life as a full-time professional artist. Mary's work has been exhibited in the Pacific Northwest, New York and Italy.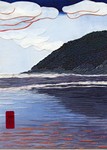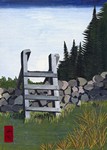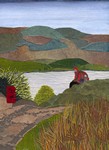 Mary Wells has created a unique collage technique by adapting the Italian craft mosaico minuto—a Roman mosaic technique using minuscule glass tiles—by substituting the glass tesserae with either high quality printed papers or pieces cut from my own acrylic painted papers. Each paper mosaic is a visual journal of the artist's life. Viewed together the mosaics form a personal narrative with each tied to a sense of place and specific part of her life experience.