Page 1 of 2
Solo show by the Australian artist Lucy Keeler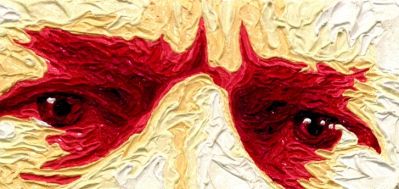 The People Project began while Lucy Keeler was living as an artist in residence at la Macina di San Cresci during 2008. During the following two years the project has developed and grown in a studio in the Northern Territory of Australia.
The final collection of paintings was previewed in remote northern Australia and will launch at la Macina di San Cresci in Italy, before travelling to Sydney during 2011.
'Nobody grows old merely by living a number of years. We grow old by deserting our ideals. Years may wrinkle the skin, but to give up enthusiasm wrinkles the soul.' (Samuel Ullman)
The ability to comprehend one's own aging process, generates an evolving internal response from every person, regardless of culture, gender or stage of life. Does the topographic map of a person's face evolve, as it ages, in proportion and accordance with outlook?
The People Project explores the parallel between an individual's thoughts and the facial contour changes associated with the aging process. The research process has involved interview and survey studies, photography, literary research and topographic facial mapping (a technical study of the geographic contours of the skull and skin, resulting in a detailed map of paths and lines).
This exhibition will also be touring to the following galleries in 2011:
Woods Street Gallery -  Darwin, Australia
FacePaint Pop Up Gallery - Sydney, Australia