Grace Wawa Yang
21 novembre 2010 - ongoing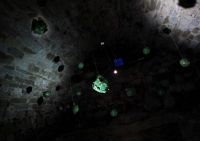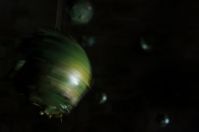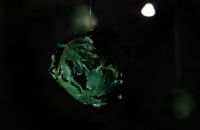 The Odyssey of Cotán's Cabbage emerged from the dark space in my little studio in Greve in Chianti, which reminded me of Juan Sánchez Cotán's early 17th century still life painting, Quince, Cabbage, Melon and Cucumber.

My installation is an experimental work exploring the themes of space, light and primitive form. In nodding to an artwork by the celebrated Spanish realist painter Cotán, my intention is to create an uncanny experience of "still life vs. real life." In the painting, Quince, Cabbage, Melon and Cucumber, Cotán's fruit and vegetables rest on a window ledge, while others are suspended from string. This arrangement of vibrant objects contrasts against the black interior to produce a perfect harmony between the lightness of the forms and the emptiness of the space. Art historians have gone so far as to suggest that Cotán's austere still lifes do more than just depict the beauty of pure organic matter, they represent a bridge spanning earthly beings and something much more divine.

The Odyssey of Cotán's Cabbage is my installation adventure that returns to Cotán's world of mystic vegetables. In translating Cotán's two-dimensional world into a physical experience, my intention is to extend the sensation of simple forms hanging in space to exaggerate, and perhaps redirect, the transcendental quality of Cotán's original work.