Grace Wawa Yang
21 novembre 2010 - ongoing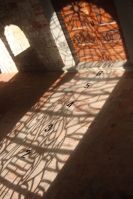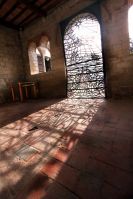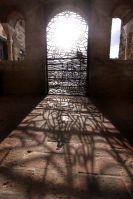 A Game in the Afternoon

My work has always been inspired by children; their games, imaginations and natural selves. Children are reflections.

They help us understand our own existence through showing us our origins, while also reminding us of our own mortality.
A Game in the Afternoon is my response to the environment of Greve in Chianti, a Tuscan town in Italy. In particular, I was inspired by Pieve di San Cresci (my artist residency), a parish church which sits on a hillside overlooking Greve. This 10th century Romanesque building features its original main portico flanked by mullioned windows with domed bricked-in arches above. Taking a walk one sunny day around the church's exterior, I looked up at the shapes of the bricked-over portals and was reminded of the game of hopscotch. Looking down I saw my own shadow on the floor and the artwork was born.

The oldest reference to hopscotch dates from the 17th Century – although it was possibly invented earlier by the Romans – when children took inspiration from stained glass windows in churches to create the layout of the game. These children also used their Christian beliefs to formulate the rules; most hopscotch courts from the past end on a seventh step shaped like a domed arch which represents "home" or "heaven". The number of steps also refers to the "seven steps to heaven".

A Game in the Afternoon creates a modern version of the Christian stained glass window with my graphic drawing on transparency paper suspended between San Cresci's semi-circular portico entranceway. In the afternoon, sunshine beams through the paper to create a perfect stepped shadow on the stone floor, ready for hopscotch.

This shadow game will appear around 12h15 to 16h00.

However, its visibility is also dependent on Mother Nature, since the days are shorter in winter and the sun less reliable. On a cloudy day, or outside the suggested time frame, only numbers on the floor will indicate where the game should be. These numbers stretch towards the church entrance, with the seventh step falling on San Cresci's heavy door, reflecting a simple truth of the game. It can never be finished unless you enter the church, the domed step to heaven.