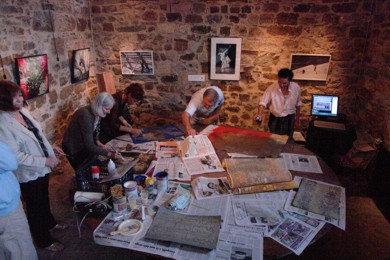 This technique involves the decoration of sheets of paper and the use of coloured paper (obtained using various techniques) to be used on walls, furniture and various other articles.
By doing graduated exercises, students will have the opportunity to practise spraying, gilding, gluing, colouring, oxidation and discolouring techniques.
DOCENTE
Luigi Gheri Bischille
Il Venerdì Santo nello splendido mese di marzo del 1948 , Luigi Gheri Bischille nasce a Firenze e qui risiede giocando a lavorare .
Si diploma all'istituto d'Arte . Fa un pò di Accademia, il corso libero del nudo , l'Università internazionale dell'Arte , corsi vari di formazione e frequentazione nelle botteghe artigiane . Lavora studiando nella Fortezza da Basso. Apprende l'arte della decorazione nelle varie botteghe di S.Frediano. Viene a contatto così delle varie tecniche e procedimenti di lavorazioni antiche. La collaborazione fortunata con architetti e progettisti gli permette di applicare queste conoscenze su moderne realizzazioni architettoniche , superfici e decorazioni pittoriche . Insegna con entusiasmo per 30 anni nelle Scuole Superiori . Suoi interventi in Giappone, America, Francia , Islanda , Olanda, Oman, altri posti e non ultimi , lavori in tutta Italia.