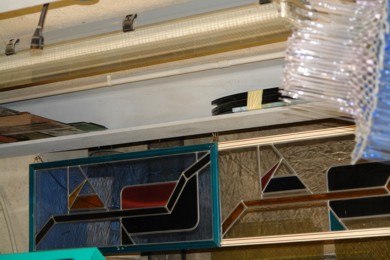 Decoration on glass using the traditional nineteenth technique of "acidatura".
The program is based on : Elaboration of a design in outline extracted from decorative element where you want to draw the elaborate vitreous . Various types of mosaic on glass and on the mirror.Chromatic effects, gilding and silver plating on the vitreous .
DOCENTE
Luigi Gheri Bischille
Il Venerdì Santo nello splendido mese di marzo del 1948 , Luigi Gheri Bischille nasce a Firenze e qui risiede giocando a lavorare .
Si diploma all'istituto d'Arte . Fa un pò di Accademia, il corso libero del nudo , l'Università internazionale dell'Arte , corsi vari di formazione e frequentazione nelle botteghe artigiane . Lavora studiando nella Fortezza da Basso. Apprende l'arte della decorazione nelle varie botteghe di S.Frediano. Viene a contatto così delle varie tecniche e procedimenti di lavorazioni antiche. La collaborazione fortunata con architetti e progettisti gli permette di applicare queste conoscenze su moderne realizzazioni architettoniche , superfici e decorazioni pittoriche . Insegna con entusiasmo per 30 anni nelle Scuole Superiori . Suoi interventi in Giappone, America, Francia , Islanda , Olanda, Oman, altri posti e non ultimi , lavori in tutta Italia.