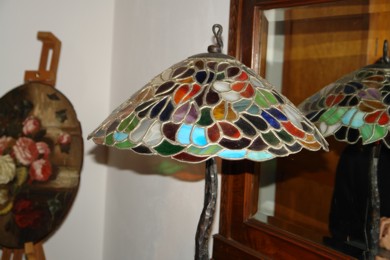 The precursor of this technique was the famous designer L.C.Tiffany who, at the end of the nineteenth century upon the expansion of the Liberty style and Art Nouveau, developed a new method for assembling stained-glass windows: each individual pane, instead of being mounted on lead frame tubes, was bordered with copper tape and then soldered. The ductility of copper and the lightness of the soldering make the Tiffany technique the most suitable one for creating lampshades, ornaments and small stained-glass windows, which are difficult to produce with the more rigid lead technique, used mainly in the manufacture of large stained-glass windows.
The students will have the opportunity of practicing glass-blowing and other techniques first-hand, acquiring familiarity with the material through graduated exercises. The course will provide all the necessary technical notions on the material and the tools.
DOCENTE
Daniela Forti
Vive e lavora nel Chianti in Toscana dove realizza opere in esemplari unici create con la tecnica della vetro-fusione.Dopo un precedente percorso nell'allestimento di spazi espositivi, si avvicina all'illuminazione non più solo fine a se stessa ma creando al tempo stesso delle vere e proprie "sculture luminose", facendole cosi diventare non oggetti di illuminazione ma "installazioni-sculturee".Sempre più attratta dalla trasformazione delle varie tecniche vetrarie, si concentra nella fusione del vetro e del cristallo, ricercando e portando a compimento una sua personale interpretazione della materia. Approfondisce in modo totalmente innovativo e unico, la tecnica della fusione, a seguito di una tenace e lunga ricerca, dando vita a un particolare processo di propria invenzione definito "arte contemporanea multi-dimensionale", dal quale nasce una nuova serie di opere e sculture, riscuotendo notevoli consensi e apprezzamenti per la sua audacia, in Italia e all'estero.