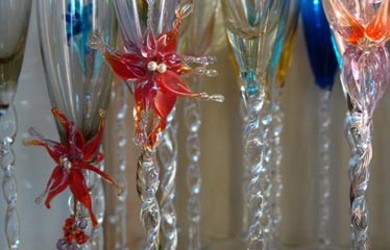 This is an ancient way of working glass for which Murano Island is famous; it is done by melting different types of glass together to create incessant combinations of ever-changing colours and shapes. A gas flame which reaches extremely high temperatures is used to work the glass, then the piece is worked by hand using pliers and rods, this allows endlessly new shapes, colours and proportions to be created.
For this type of working, glass in clear or coloured rods is used; its characteristics make this type of treatment particularly suitable for the making of pearls, rings, pendants, necklaces and various bijoux. The course will provide all the necessary technical notions on the material and the tools.
DOCENTE
Daniela Forti
Vive e lavora nel Chianti in Toscana dove realizza opere in esemplari unici create con la tecnica della vetro-fusione.Dopo un precedente percorso nell'allestimento di spazi espositivi, si avvicina all'illuminazione non più solo fine a se stessa ma creando al tempo stesso delle vere e proprie "sculture luminose", facendole cosi diventare non oggetti di illuminazione ma "installazioni-sculturee".Sempre più attratta dalla trasformazione delle varie tecniche vetrarie, si concentra nella fusione del vetro e del cristallo, ricercando e portando a compimento una sua personale interpretazione della materia. Approfondisce in modo totalmente innovativo e unico, la tecnica della fusione, a seguito di una tenace e lunga ricerca, dando vita a un particolare processo di propria invenzione definito "arte contemporanea multi-dimensionale", dal quale nasce una nuova serie di opere e sculture, riscuotendo notevoli consensi e apprezzamenti per la sua audacia, in Italia e all'estero.