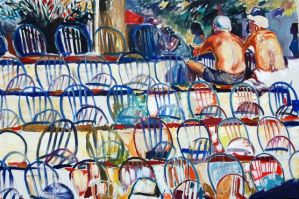 By Velislava Gecheva
Vernissage : June 16, 2012 at 6PM
In the paintings of Velislava Gecheva the observer can find a research that is oriented, using techniques already developed as expressive, in arrangements of multiple themes treated.
As a travel diary, the different notes engraved on the canvas taking us to a diverse path in which the artist translates her visions into immediate pictorial emotion and the spontaneity of the gesture is granted with the chosen subject.
"I love working on stories" visible "- says the artist -. Exciting topics for me are related to body and soul, war and love, death and food - the opposite of life, the contours in the picture, recording the visible surface of reality, things of life. "
Velislava Gecheva was born in Sofia in 1986, where she lives and works. She has received numerous awards including: a scholarship winner in the National Competition of the Ministry of Culture; award from the First National Competition "A generation without drugs", finalist in the International Art Competition "River of Words", Washington, USA; First award from the National High School of Fine Arts competition "Portrait", Sofia Art Award Nominee for Essl - EEC 2011. Shee has participated in group exhibitions: National gallery of foreign art, Sofia; A generation without drugs, organized by Salvation Foundation, River of Words, Washington, USA, European Year of Creativity and Innovation - Ancient Kilns, Macerata, Italy; Erasmus in Art - Gallery Mironimia, Macerata, Italy, Urban Area, Union of Bulgarian Artists gallery, Shipka 6, Sofia.