USA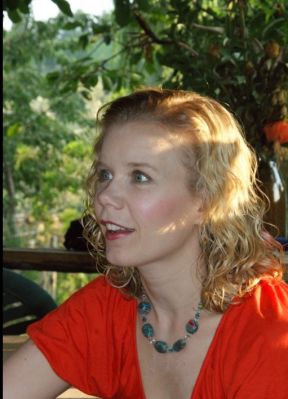 The project that Nikki proposes to produce during her residency at the La Macina di San Cresci is called "Whispering Bodies" abstract drawings, which explore the idea of exhilaration, freedom and the formless body. These drawings are composed of spheres, which are based on the image of lily pads floating on the water. The forms in the drawing look as though they are floating, free in the space of the drawing. The drawings will be part of a solo exhibition that Nikki will have next fall at the Elmhurst Art Museum in Elmhurst , Illinois, USA.
Nikki Renee Anderson creates ceramic sculptures and installations that explore the feminine experience based on her personal history.
Anderson's work has been reviewed by Helen Harrison in the New York Times. Her work has been included in American Craft Magazine, Ceramics Monthly, Time Out Chicago, Chicago Artists' News, The Chicago Tribune and Chicago Sun-Times.
Her awards include International Arts Exchange Grant from the Illinois Arts Council, three CAAP grants from the City of Chicago, a full fellowship to the Vermont Studio Center; Best Faculty Presentation, Voices, Visions and Visionaries Gender Conference, College of Lake County; and the Maurice Goldberger Graduate Fellowship, Stony Brook University.
She has lectured about her artwork at the 2007 College Art Association Conference, New School University and Long Island University in New York.
She received an MFA from Stony Brook University and a BFA from Drake University. She has taught courses in Ceramics, Sculpture, Drawing, Installation and Art Appreciation at Stony Brook University, Harper College, Moraine Valley Community College, College of Lake County, McHenry County College and Columbia College Chicago. Anderson lives and works in Chicago.